Guest Speaker - Dr Anne Biccard
Crystal Nipple Guy, Mr Chest Pain and the Lego Kid are all real characters in the sometimes quite bizarre world of the Emergency Room where Dr Anne Biccard, our speaker this week and author of her third volume of memoirs as an ER doctor, works.
Holding My Breath, Further Exploits of an ER Doctor, was the subject of her talk, most of the action taking place during the past two to three Coronavirus years.
In her introduction Helene Bramwell said that when she asked Dr Biccard to describe herself, the reply was: I'm a person.
"That may be so," Helene said, "but she's a remarkable person."
Dr. Biccard says many doctors "disappeared" during the Covid years and she suspects younger doctors got jobs overseas and many older doctors approaching retirement decided to leave the profession because of the threat that the virus presented.
Emergency rooms were hard hit because of a lack of staff. If you tested positive as a doctor you had to stay home for 10 days whether you presented symptoms or not.
"It's been a really tough two years. At first we were all just terrified."
Emergency Room staff, especially nurses, really took strain, working long hours and living in fear of going home and infecting their families. Many suffered burnout.
Many young doctors doing their two years of community service said they just didn't want to practise medicine any more due to the tough conditions.
In thanking her Lucille Blumberg said there have been many scientific publications on Covid, but few like the personal stories that Dr. Biccard tells.
After the speaker it was time to reflect on Discon that was held last weekend where Joan Sainsbury made quite a splash with no fewer than four individual awards for Club Service, Areas of Focus, Community Service and Membership.
PDG Jankees Sligcher also thanked Babette Gallard for her presentation on climate change which was not "death by powerpoint" as such presentations often can be. He said Babette had the audience captivated and, like Joan, was a credit to New Dawn.
Another award winner was the Rotaract Club of Johannesburg, a club we share with the Rotary Club of Johannesburg.
Minnie Majola and President Renaldy Beyeme won the Rotaract Project of the Year for their contribution to the Eastern Cape village of Nyavini which was also badly affected by the floods in KwaZulu-Natal, being close to the border.
Minnie told the club how they had worked with mentors to encourage the children to continue going to school despite the difficult conditions.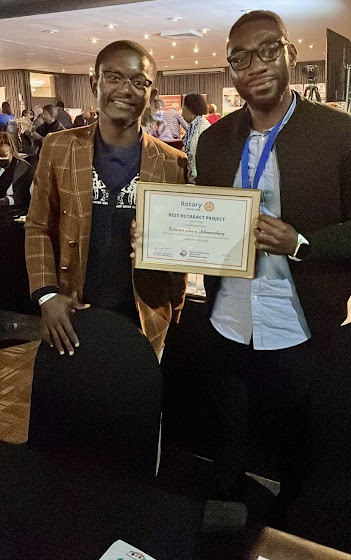 An emergency request from the National School of the Arts for blankets for a group of visiting children from an Eastern Cape school led to some quick action and a trip by Linda and me to the Sesli Blankets Factory Shop off Main Reef Road in Roodepoort and a hopefully warm night for the visitors. That's Rotary in quick Action for you.
Remember, there is no meeting next Wednesday morning, but the induction of Julian Nagy will take place at the Parkview Golf Club that evening. There's still time to reserve a seat at R250 per person which includes a curry buffet. Bring your credit card along for drinks.